The Couture Process
How We Create Your Dream Wedding Dress
As a first step, at your initial consultation designer Julie will ask you about your ideas for your dress, and the theme or style of your wedding: e.g., traditional, informal, fairytale, vintage, tropical shore, etc.
All vital information to start creating your look.
You will be able to try on wedding dresses of different shapes and styles, to show you which would flatter you the most.  You will be able to choose from a selection of samples of silks, satins, and laces from all over the world.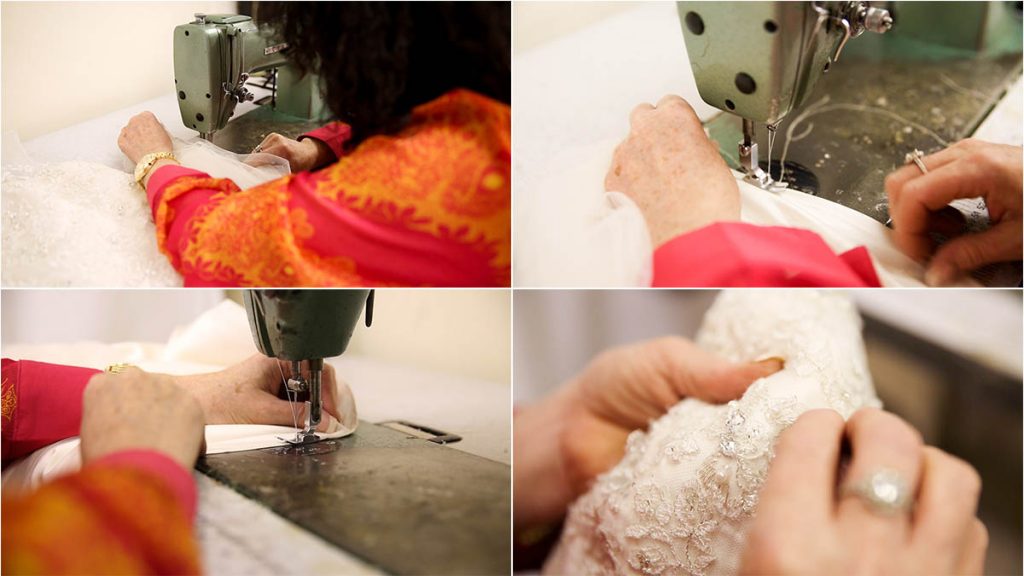 Julie will then work with you to create your original design, incorporating all the ideas you've discussed, and your favourite elements from other dresses you have seen.
Having chosen your fabric and placed a formal order, all your measurements will be taken. We are sure that you will leave feeling excited, inspired and full of confidence, knowing you have just taken the first step in creating a bridal gown that is totally individual and a reflection of you.
Next a 'calico toile' is made up. This is a mock-up of the bridal gown made in a stiff cotton fabric, using the measurements taken before. At your first fitting this will be expertly fitted to you, before being used to create the pattern for the cutting out of the actual wedding dress fabric.
Your bridal gown will then be hand crafted and fitted to you, several more times during its creation. As these fittings progress your dream dress will gradually take shape, and then, once the all important details have been added, it will be complete. Meanwhile, your shoes, tiara and veil can all be hand crafted to match, and teamed with appropriate jewellery to complete the look.
Having your gown created at Village Bride will be one of the most memorable experiences of your life. You will have memories to treasure from the moment you step through the door, on through the various fittings, possibly with your loved ones proudly looking on and taking photos, right through to looking at your reflection in the mirror, as you try on your completed hand-finished  dream wedding dress for the first time.
Your feelings then can only compare with that magical feeling you had as a child, waking up on Christmas morning!
To book your initial appointment, you can either call 0161 427 9419 or Contact Us